Welcome to North Boston Volunteer Fire Company


$50 Grand Gala Update:
Last year this time the expectation was COVID-19 (Coronavirus) concerns would be over. Again local event cancellations and social gathering restrictions still in place by Federal, State and County authorities force the North Boston Volunteer Fire Department to again have serious concerns on holding a public gathering for our 2021 50 Grand Gala drawing. The annual July event has proven to be a successful fundraiser while providing a venue for residents to socialize and time for us to thank our community and supporters.
Experience has taught us logistical concerns and tasks need to be in place 60 days prior for an event of the Gala magnitude. Governmental predictions indicate as social restrictions are relaxed physical distancing will still be the norm. Our available venue does not allow necessary spacing to satisfy required event permits. With current and anticipated guidelines to be in place in July, we are not able to satisfy local COVID health protocols to enable a safe social environment for our guests, vendors and workers.
NBFC made a company decision:
WE WILL NOT be holding the 2021 public event (the party).
We will, however, conduct the drawing on the date and time listed on the tickets (July 11, 2021, at 3:00pm.)
The
drawing will NOT be open to the public
. We will be adding 20 - $250 cash drawings to the scheduled list of 66 prizes to offset cancelling the traditional party. Our intention is to provide a live streaming of the drawing on our NBFC Facebook site (
www.facebook.com/NorthBostonVFC
)
and record the drawing to post for viewing later.
Please access our social media sites for drawing information and results.
1. NBFC website at
www.northbostonfire.com
2. NBFC Facebook site at
www.facebook.com/NorthBostonVFC
We thank you for your support and understanding during these unusual social times.
STAY SAFE !
North Boston Volunteer Fire Company
(716) 649-0974 ext. 4


Firefighters Recognized:
At our May 3rd 2021 meeting, we recognized our firefighter of the year along with our top ten responders for 2020 since we have not been able to hold our annual installation dinner. Congratulations to the receipients:



Apparatus Update:
We have sold our Rescue 7 appartatus to the Bier Hill Fire Company to make room for our new two rescue/pumpers set to arrive later in 2021. Rescue 7 has proudly served North Boston and surrounding towns since 1999.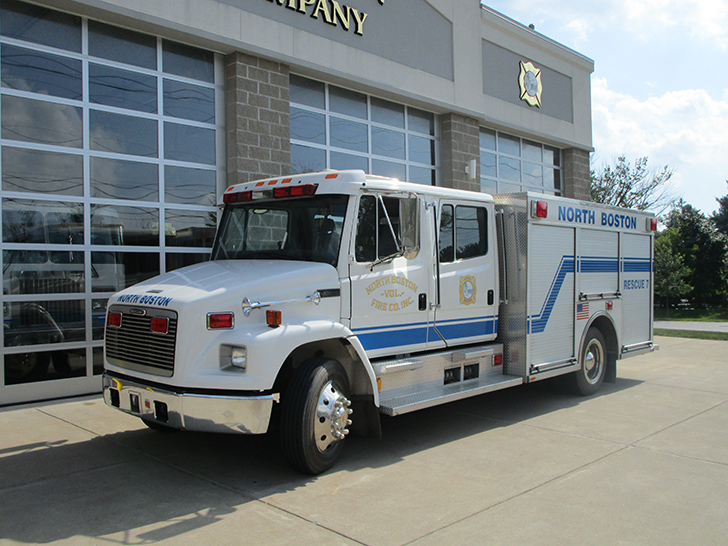 $50 Grand Gala Update:
All tickets have been sold out. Thank you for your support and we look forward to the event July 11th, 2021!